Cargo and Passenger Steamer "Schwalbe", built in 1898. The construction of larger steamers began with this ship at Bremer Vulkan.
Twin screw Cargo and Passenger Steamer "Zeppelin", built in 1915. She is  one of the largest passenger ships built at Bremer Vulkan.
M/V "Ruhr", built in 1926. The first motor ship built at Bremer Vulkan.
M/T "CO Stillmann". She was the largest tanker in the world for a long time.
M/V "Goldenfels", built in 1938. She became a legend as auxiliary cruise of "Atlantis".
F/V "Oskar Schulze", built in 1949. The new beginning after the Second World War.
T/V "Bremen", ex- "Pasteur". She is reconstructed in the years 1958/59 at Bremer Vulkan passenger ship.
M/V "Aegis Pioneer", built in 1969. She is one of the first ships of the "German Liberty Type" and one of the most successful ship series in the world.
T/V "ACT 3", built in 1971. She is one of many second generation full container ships built by Bremer Vulkan.
T/T "Lagena", built in 1974. The construction dock, which was actually designed for other types of ships, made it possible to enter into the construction of large tankers.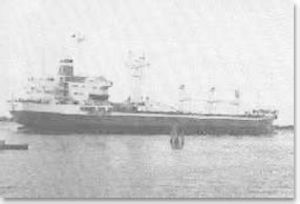 M/V "City of Winchester", built in 1976. She is the result of the consistent development of the "German Liberty Type" "Bremen ProgressType".
M/V "Australian Venture", built in 1977. She is a third generation container ship.
M/S "Europa", built in 1981.
Length: 655′
Gross Tonnage: 34500 grt


M/Y "Al Dhaferah", built in 1987.
Length: 447′
Gross Tonnage: 10797 grt
Capacity: 266 guests in cabins
M/C "Costa Victoria", built in 1996.
Length: 827′
Gross Tonnage: 75166 grt
Capacity: 2394 guests in cabins
Hull of M/C "Costa Olympia", year 1996.
M/Y "Le Grand Blue", built in 2000.
Length: 370′
Gross Tonnage: 5556 grt
Capacity: 20 guests in cabins